Pick-Your-Own Strawberries 2023
PICK YOUR OWN STRAWBERRIES HAS ENDED FOR THE 2023 SEASON. THANK YOU ALL VERY MUCH FOR AN AWESOME SEASON. CHECK BACK WITH US SOON FOR PYO BLUEBERRIES!
Hooray! Our PYO Strawberry Season is starting on Saturday, June 10, 2023.
Hours: Open Daily  9 am – 4 pm. Weather Permitting and while supplies last.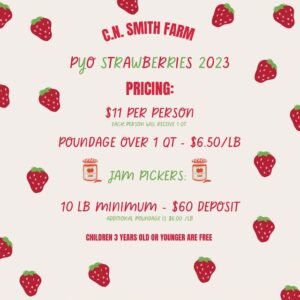 Pricing: $11 per person. Each person will receive 1 QT
Children 3 Years Old or Younger  are Free
Poundage over 1 QT – $6.50/LB
Jam Picker Pricing: $60 Deposit for a 10 LB Minimum
Additional Poundage – $6.00/LB
Please call 508-378-2270 before coming to check if we are picking. You can also check social media for picking updates.
We reserve the right to close on short notice due to:
Being picked out
Inclement Weather
Crop needs to Ripen
Unfortunately, no pets are allowed. Service dogs are welcome.
Note: The service dog's task must be directly related to the person's disability. Comfort/Support animals do not qualify under the American Disability Act Guidelines. Improperly trained animals can endanger others and affect the biological security of this or any food production facility. Thank you for your cooperation.
Payment: We have Square POS and accept apple pay, credit cards, cash app, and cash. No checks, thank you!