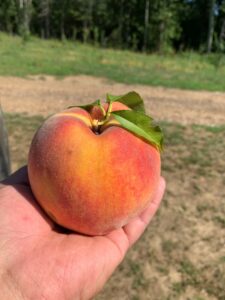 Nothing beats a peach fresh off the tree. Normally, picking is in July – August and may continue into early September if the conditions are right. We have several varieties, including white and yellow.
2020 UPDATE:
This year, due to Covid-19 picking is by reservation only.
Please click here to schedule your appointment.
Please email us at cnsmithfarmgirls@gmail.com for the most up to date information or visit us on Facebook or Instagram.
FOR SAFETY AND HEALTH REASONS WE CAN NOT ALLOW PETS ON THE FARM. CERTIFIED SERVICE ANIMALS ONLY.