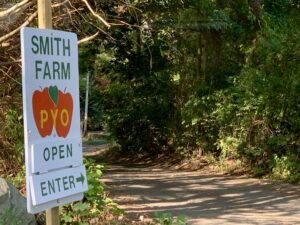 Pick Your Own Apples
Welcome to the Smith Farm Orchard! Apple picking is our most popular pick your own event. We start Labor Day Weekend and generally go through Columbus Day or into the middle of October depending on crop conditions.
SORRY, NO DOGS OR PETS ALLOWED ANYWHERE ON THE FARM.
---
OUR PICK-YOUR OWN APPLE SEASON IS NOW OVER FOR 2021! 
Thank you for coming, we will see you next year!
---
Orchard Hours
Mondays – Orchard Closed.
Tuesdays, Wednesdays, Thursdays, and Fridays – 9 am – 3 pm
Saturdays and Sunday – 9 am – 4 pm
PYO is subject to be closed based on weather conditions and crop. WE MAY CLOSE ON SHORT NOTICE!
WE ARE CURRENTLY PICKING:
---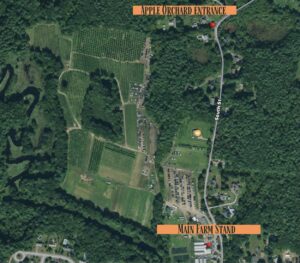 Keep in mind that our farm stand and apple orchard have two separate entrances, and you must drive to apple picking.
The orchard entrance is a quarter mile up away from the main farm stand, on South Street.
Look for the sign pictured above!
For apple picking, you park, pay and pick at this location. Check in at the red building upon arrival!
(Apple picking is NOT at the house with the apple trees in the yard, that is our private residence.)
Where to Start
Parking and Payment
Follow signs from South Street to the orchard parking lot.
You or your group must pay for a Smith Farm Apple Bag before entering the orchard. You or your group may not enter the orchard unless you purchase a Smith Farm Apple Bag. 3 people are allowed in per one 1-peck bag purchase. 5 people are allowed in per 1- 1/2 bushel bag purchase. Of course, you may purchase as many as you like beyond the minimum.
2021 Apple Pricing
Peck Bag (approx. 10-12 lbs) – $30, admits 3 people.
1/2 Bushel Bag (approx. 20-24 lbs) – $45, admits 5 people.
$6 per extra person
Children 3 years of age of age or under – free admission.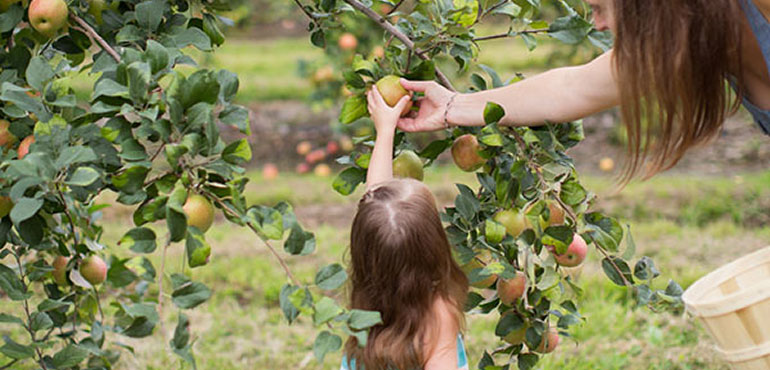 Purchases & Policies
A lot of hard work goes into growing apple trees. Did you know it takes a minimum of 5 years before a tree produces a significant crop of apples? If you damage a young tree so it needs replacing, we have to wait 5 years before we can recoup our loss. And that makes fewer apples for you to pick and enjoy! So please respect our orchard by following our policies listed below. Thank you.
How Do I Pay?
We accept payment through Square Point of Sale, this includes all major credit cards. Of course we also accept cash, no checks please!
You must purchase a new Smith Farm Apple Bag each time you visit or revisit the orchard.
No Pets
Health codes and Federal FDA guidelines prohibit pets of any kind in the apple orchard. (Certified assistance animals are exempt – see "Handicap Access" bullet below for more info.)
Please Pick Only What You Pay For
While we don't mind if you sample the varieties before you pick –  if your bag is full please stop picking! Please don't pick and throw the apples on the ground. Once the apples are off the tree we can no longer sell them!
DUE TO COVID-19, no sampling in the orchard this year.
If you are observed picking significantly more than you paid for, you will be asked to buy another bag (e.g. filling a stroller/wagon, handbags, sweatshirts, etc.) All nonpayment is considered theft and will be treated accordingly.
Handicap Access
We recommend that handicapped persons or groups interested in apple picking come early in the season (1st few weeks of September) to avoid traversing hilly, rough terrain later in the season. Also, Wednesdays through Fridays tend to be less busy than the weekends and therefore might be easier to navigate for those who have mobility issues.
Handicapped assistance animals are allowed per state law, however also per state law, we reserve the right to ask you to remove the animal from the fruit producing areas of the orchard if:
– You are not in control of the animal
– You are not following farm policies applicable to everyone
– Your animal violates health code policies in fruit producing areas of the orchard
Children Must Be Supervised
The orchard is large and is bordered by woodlands. Need we say more?
Strollers And Wagons
We have had a lot of questions about whether strollers and wagons are allowed into the orchard. To clarify "We allow them as a means to transport a child in the orchard but not as a means to carry apples!" Thank you for your cooperation.
No Tree Climbing
In most cases our trees are young or are pruned to have young branches. They will not support the weight of children or adults. We do not want anyone to get hurt or our trees to get damaged.
Stay In Designated Areas
We only open varieties that are ready to be picked. To avoid picking unripe fruit or entering areas that may be unsafe, please remain in the marked picking area.
Varieties available for picking are listed that day at the front of the orchard. There are no refunds if there are apples on the trees to be picked. If you feel you cannot find apples, one of our orchard assistants will be happy to help you.
Large Groups
2021 UPDATE: DUE TO RISING COVID-19 NUMBERS ALL OVER, WE WILL NOT BE HOSTING ANY TOUR GROUPS OR FIELD TRIPS. WE APOLOGIZE FOR THIS, BUT MUST DO WHAT IS BEST AND SAFEST FOR US ALL. 
All large groups (e.g. adult, church, senior citizen) for apple picking who are not scheduling a tour (see school tours page) should contact the farm a few days in advance at 508-378-2270 for suggestions and directions once you're at the farm.
Please do not "dump and run" a bus load of people and expect things to go smoothly.
Have Fun!
Posted rules are based on 20+ years of experience managing a pick your own operation. We've seen and heard just about everything and have rules based accordingly. We want you to stay safe, respect our property and have fun too. We think all three can be done at the same time.